Article 370 Scrapped

 
The centre has scrapped Article 370.
It granted special status to the state of Jammu and Kashmir.
Home Minister Amit Shah in the Parliament has said the presidential order has been issued and the Article 370 is removed.
Jammu & Kashmir to be bifurcated to Union Territories of Ladakh & J&K. Article 370 scrapped by presidential order with immediate effect.
Read More About Article 370 & 35 A by clicking on this link
New Changes after Article 370 is removed
Special Status to Jammu & Kashmir is removed.

Double citizenship is removed now only one citizen i.e.,

Indian

.

No separate flag for J&K.

Right to Information (RTI) & CAG Law will now prevail.

Person from other state can now purchase land in J&K.

Minority will get reservation now in J&K.
Article 356 can now be applied to J&K means now Presidential rule can be applied.
Article 356, commonly known as President's rule deals with "Failure of constitutional machinery in the State". It empowers the Central government to deal with such a situation. It is also sometimes called State Emergency or Constitutional Emergency even though the constitution doesn't call it by any of that name.
ARTICLE 370
According to, Article 1 of the Indian Constitution, the State of Jammu and Kashmir (J&K) is a constituent state of Indian Union and its territory forms a part of the territory of India.
Where Article 370 in Part XXI of the Constitution grants a  special status to it. So not all the provisions of the Constitution of India apply to it & being the only state in the Indian Union which has its own separate constitution. But in the same Part (XXI) of the Constitution, twelve other states too enjoy special status but not as majorly as Jammu & Kashmir do.
ABOUT ARTICLE 370
It gives some autonomy to the state of Jammu & Kashmir to decide its internal matter.

The state government has the control on how it needs to govern the state.

Foreign Affairs, Finance and Communications & Defense are the area where Indian government's law is applied for all other matters state makes the law.

Emergency in the State of J&K can be imposed only on the grounds of internal disturbances and imminent danger from a foreign country.

Financial emergency can't be invoked in the State of J&K.

Indian Citizens belonging to other states cannot buy land in Jammu & Kashmir.
Order has been issued in The Gazette of India
–>

Jammu And Kashmir

To Be Bifurcated
–>

Ladakh

to get status of Union Territory without Legislature. Existing state of Jammu and Kashmir a

separate Union Territory.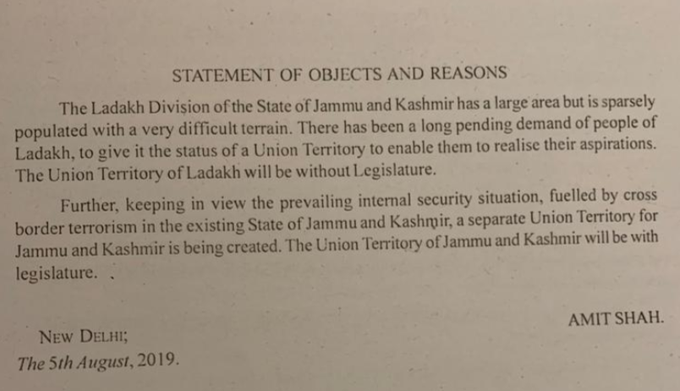 Reaction on Twitter has been pouring on after the order to scrap Article 370 has been issued. 
#ModiSarkar @narendramodi @AmitShah correcting a historic blunder #Kashmir
🇮🇳CONGRATULATIONS INDIA🇮🇳#EkBharatShreshtBharat #KashmirParFinalFight

— Rajyavardhan Rathore (@Ra_THORe) August 5, 2019
What a glorious day. Finally d martyrdom of thousands starting with Dr Shyam Prasad Mukharjee for compete integration of J&K into Indian Union is being honoured and d seven decade old demand of d entire nation being realised in front of our eyes; in our life time.Ever imagined?🙏

— Ram Madhav (@rammadhavbjp) August 5, 2019
It will have catastrophic consequences for the subcontinent. GOIs intentions are clear. They want the territory of J&K by terrorising it's people. India has failed Kashmir in keeping its promises.

— Mehbooba Mufti (@MehboobaMufti) August 5, 2019